The Dulze receives the Internet Stars award, in the category of best Facebook account 2020.
El Dulze Growers, S.L. wins the award for best professional account on Facebook 2020, from FruitToday Euromagazine. This year, due to the situation brought about by the Covid-19 health crisis, the traditional annual Internet Stars Awards ceremony has had to change its format to adapt to the changes imposed by the pandemic.
The "Internet Stars" event, organised every year by FruitToday magazine, assesses corporate accounts in the fruit and vegetable sector at a national level. Together with a jury of specialists in the field, they analyse and evaluate the finalists in each of the nine categories.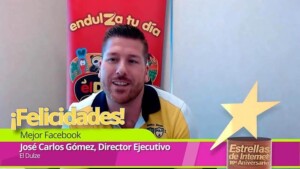 The 2020 'Internet Stars' finalists in each of the 9 categories were as follows:
Best Online Company: El Dulze Growers, Frutas Bruñó and Uvas Doce.
Most Social Web: 5 al Día, MAAVI Kimitec Group Foundation and Melón de Autor.
Best Online Campaign: "Las Chuches" by Uvas Doce, "Valorar las Arrugas" by Frutas Bruñó and "#TheSweetEffect" by Rijk Zwaan.
Best #twiter: Fruits Eloy, Reyes Gutiérrez and Uvas Doce.
Best E-commerce: Granada la Palma, Procam and Trops.
Best Blog: Livinda de Nufri, Uvas Doce and Zespri España.
Best Instagram: 5 al Día, Sandía Fashion and Zespri España.
Best YouTube: Frutaria, Looije and Zerya.
Best Facebook: El Dulze Growers, Frutas Bruñó and Sandía Fashion
The Dulze, after coming in as a finalist in two of the nine categories, finally won in the Best Facebook category.
We here in the company would like to express our deepest appreciation for this recognition of what is an ongoing day-to-day work designed to generate and disseminate content that is of interest to the entire Dulze community.
As is the case every year, the Internet Stars Awards were sponsored by Euro Pool System and Proexport and have had the collaboration of Fruit Attraction and Fepex.